The Backstories of Christmas Songs Everyone Knows
There are many holiday/Christmas songs that everyone knows, but not many know the backstories to these popular tunes. When you listen to the holiday station on the radio or your favorite seasonal album on your phone, you should know more than the lyrics. Here are 10 popular holiday songs and their stories: 
1) All I want for Christmas 
This Christmas song was not only released by the main singer, Mariah Carey, but written by Walter Afanasieff and produced by Carey Afanasieff. She became the writer of the song to show what she imagined would be a perfect Christmas because she never experienced one as a child. At twenty-four years old, she released this song in 1994.  
Although, All I Want for Christmas is a well-known holiday song around the United States, you would be surprised by how long it took to gain its popularity. In 1995 the song was number six on the hot adult contemporary billboard and number twelve on the hot 100 airplay chart. After that, the song kept on returning to the hot 100 billboard every year during Christmas time and hit top 10 for the first time in 2017 when it reached number nine. Then, it hit number three in 2018, and 25 years after the release date, in 2019, it hit number one.  
 2) Last Christmas  
Last Christmas was written by George Michael and was sung by George Michael and his band Wham! It was released in 1984, but it took a very long time to get popular. It was the biggest selling single to never reach number one, with 1.9 million sales.  
Then, on January 3rd ,2021 the song, Last Christmas finally hit number one on the UK singles chart. It took 36 years to make it onto the charts even though it is a very well-known Christmas song. Also, Last Christmas was the band's first hit on the charts.  
Which Top Ten Christmas Song is Your Favorite?
Sorry, there was an error loading this poll.
3) Feliz Navidad  
Jose Feliciano is the creator of the popular Spanish Christmas song, Feliz Navidad. The title Feliz Navidad means Merry Christmas in Spanish, although the song isn't entirely in the Spanish language. While writing the song, he initially wrote all the lyrics in Spanish, but changed it to a mixture of Spanish and English. The reason he did this was so that he could get airplay on the radio in the United States.  
The song was first recorded in 1970, but it took almost forty years for it to get big. It entered the billboard Hot 100 on the week of January 7, 2017, at number 44, then it became number 42 on the week of December 22, 2018. Finally, the following week it rose to number 34 and became Jose Feliciano's first top 40 hit since 1968.  
4) Rockin around the Christmas Tree  
Rockin around the Christmas Tree is a famous Christmas song written by Johnny Marks. It was then sung by Brenda Lee, who was thirteen at the time and released in 1958. Rockin around the Christmas Tree was surprisingly not her first song because she first started singing professionally at only six years old.  
In 2008, the song sold over twenty-five million copies around the world. This was after the 50 anniversary of the song and continues to sell more and more. In 1960, it then hit number 14 on the United States charts. 
5) Jingle Bell Rock 
Jingle Bell Rock was composed by Joseph Carleton Beal and James Ross Boothe. Bobby Helmes was then chosen to sing Jingle Bell Rock and it was later released in 1957. At first, they were unsure how people would feel about mixing rock and roll and Christmas, but it quickly became a world-wide famous Christmas song.  
Jingle Bell Rock was given many awards after its release. The song was number 13 for the most played Christmas song and number six for the best sellers. Then, on the week ending January 11, 1958, it was in the top 60 of the week. It has also won most frequent airplay during the season in the United States.  
6) Here Comes Santa Claus 
Here Comes Santa Claus is a Christmas classic performed by Gene Autry and music composed by Oakley Haldeman. The song was released in 1947 but the idea was given at a parade in 1946. During the Christmas parade, he had to ride a horse, and someone screamed out "Here comes Santa Claus!"  
This Christmas song has a perfect mixture of Santa Claus mythology and the origin of Christmas. The song then hit number five on the country charts and number nine as a pop hit.  
7) White Christmas  
White Christmas was originally sung by Irring Berlin in 1942. This Christmas song was covered by many artists after its release and was recognized as a very important Christmas classic.  
In 1954, producer Michael Curtiz features the song and names his musical after the song, White Christmas. This film helped gain the classics popularity and helped bring it 15th academy awards.  
8) Jingle Bells 
The Christmas classic Jingle Bells was first written by Lord Pierport in 1850. Then in 1857, he performed it in the Ordway Hall in Boston. It was first published under the title "The One Horse Open Sleigh" but was changed to Jingle Bells in 1859. Now, Jingle Bells is a world-famous Holiday tune that is very recognizable.  
9) Deck the Halls 
Deck the Halls is a Christmas carol made in the 16th century, no one is sure who created it. The original music is Welsh and originated from the Unted Kingdom. Many years later, in 1862 Thomas Oiphant wrote the English version. Now it is considered a Christmas carol staple.  
10) We Wish You a Merry Christmas 
We Wish You a Merry Christmas is an English Christmas carol from the 16th century. It has known composer to this day, but many people sang it around. It was especially known for children to sing it door to door in Victorian times. It is a very well-known Christmas folk song to this day.  
Leave a Comment
Your donation will support the student journalists of Steinbrenner High School. Your contribution will allow us to purchase equipment and cover our annual website hosting costs.
About the Contributor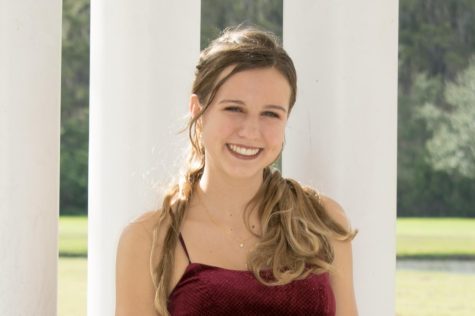 Brielle Neylan, Staff Writer
Brielle Neylan is a freshman at Steinbrenner and a first time Oracle Staff Writer. In her free time, she likes to listen to music and spend time with her...