Iconic Outfit Ideas for the Eras Tour
Taylor Swift's anticipated Era's tour is headed to Tampa starting Thursday, April 13th bringing with it loads of excitement. Fans of the multi-genre star are dressing up as themes from eras or copying exact looks. This can include colors, lyrics, music videos, tour outfits, award shows, or streetwear. There are also many accessories like makeup, hand/arm writing, hairspray, lights, shoes, etc.  
Debut (Taylor Swift) 
 Taylor Swift started her first album with country music. It was released in 2006. This era features many dresses, jeans, boots, and the color of the album is green. The dresses are usually white, black, blue, or floral designs. Many fans can wear cowboy boots, cowboy hats, and tight curls. Some iconic looks are from music videos like the blue dress by Our Song, award shows, or casual wear.  
Fearless 
 Taylor Swift released her second album in 2008, and it's considered a country pop album. In this era there are many iconic looks like the marching band outfit, junior jewels shirt, love story gown, and sparkle dresses from tour. This also includes tight curls and low buns. The color of the era is sparkly gold. Many costumes are from music videos or tour looks. 
Speak now  
 This album was released by Taylor Swift in 2010, and it also fits into the genre of county pop. Most era tour outfits are collected from speak now tours. This includes more sparkly dresses, her iconic purple dress, or a schoolgirl outfit from a music video. Speak now's color is purple, so anything purple would fit into this era. Some accessories are hand/arm writing with lyrics or quotes, tight curls, sparkles, and bright colors.  
Red 
 The red era was released by Taylor Swift in 2012 and was the last album to have country pop music. This era was when the iconic red lip started becoming famous. The most iconic outfit from this album was the 22-music video outfit with the shirt that says, not a lot going on at the moment, black shorts, heart sunglasses, and a top hat. Other outfits include striped shirts and shorts during her red tour. Some accessories include straight hair, heart sunglasses, scarf, hats, and lipstick.  
1989 
  The 1989 era was released by Taylor Swift in 2014 and is her first pop album. This year consists of many crop tops and sparkles. This includes metallic colorful skirts, glitter tops, and glitter jackets. Other costumes are from music videos like shake it off cheerleading costume or her 2016 Grammy look. Many outfits have matching two pieces. 1989 includes many different colors and textures, but the color of the era is light blue. Accessories include sunglasses, short-black boots, and straight hair and side bangs.  
Reputation  
   Reputation was released by Taylor Swift in 2017 and it was her revenge era. This pop album's color is black and has many looks full of vengeance. Taylor Swift would wear many bodysuits, diamonds, and snake accessories. In this era, she started to wear her natural hair and began to show off her waves, along with switching out red lipstick with black. An iconic outfit from reputation would include a black hooded bodysuit with black diamonds and black boots.  
Lover 
    Lover was released in 2019 by Taylor Swift. This album was full of many colors and includes many rainbows, pastels, and watercolor. Although there is a collection of many colors, the album's color is pink. Many iconic outfits come from music videos and performances. Most outfits include many short jumpsuits from performances, dresses from music videos, like the iconic heart dress, or dresses from award shows. A good example is also a costume from lyrics. Some accessories include heart eye makeup, colorful dyed hair tips, glitter, or jeweled sunglasses.  
Folklore 
   Taylor Swift released folklore in 2020, during quarantine and this was her first indie album. It includes poetic lyrics with a whimsical feel. The album cover shows her in the woods with a black and white filter, along with other pictures from the era. Folklore's color palette includes white, blacks, and grays, but the main color is gray. The most iconic piece of clothing from this era was the folklore cardigan sold by her in her online store. This was connected to her song cardigan and makes many appearances through the year. It has long flowy dresses and skirts, turtleneck sweaters, and long plaid coats. Some accessories include space buns in your hair and lots of corduroy. Lastly, a popular folklore outfit was her flower dress she wore while performing at the 2021 Grammys. 
Evermore  
    Taylor Swift released evermore shortly after folklore at the end of 2020. This was her second indie album, and also includes the same poetic feel through the music. Evermore's colors are a mixture of browns, oranges, and yellows. This is initiated by the album cover of her in a plaid coat. This includes most folklore's clothes like plaid, coats, flowy dresses and skirts, and sweaters but includes more color. Although there are more additions like the willows cape, flower head bands, and a French braid. 
Midnights  
    Lastly, Taylor Swift released Midnights most recently in 2022. This album includes pop music and features all the eras somehow. Many outfits are alike to outfits before but somehow changed. This album includes many jewels, sparkles, and sequins, and the color of the era is a dark blue. Some iconic outfits include the bejeweled top, the star jumper with a white shawl, an award show dresses, or costumes from songs like lavender haze.  
Leave a Comment
Your donation will support the student journalists of Steinbrenner High School. Your contribution will allow us to purchase equipment and cover our annual website hosting costs.
About the Contributor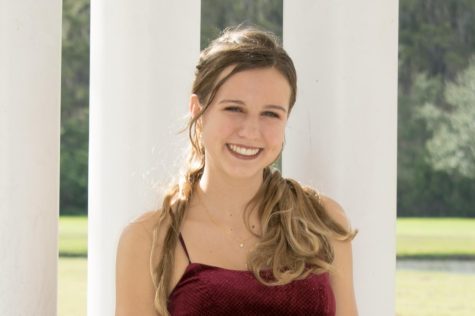 Brielle Neylan, Staff Writer
Brielle Neylan is a freshman at Steinbrenner and a first time Oracle Staff Writer. In her free time, she likes to listen to music and spend time with her...