Classic Crispy Potato Latkes
This dish is essential to every Jewish household during Passover. There are different ways every family makes theirs, but it always comes out delicious. What makes it so much better is the toppings such as apple sauce or sour cream. It is always best to serve and eat right away.
Tools-
-measuring cups and spoon
-liquid measuring cups
-Knife and cutting board
-Food processor with shredding blade (optional, could use a grater)
-clean, thin kitchen towel
-Wooden spoon
-Mixing bowl
-10- to 12-inch cast iron skillet (any pan will do)
-spatula
-Fork
-Paper towels
-2 baking sheets
-Wire cooling rack
Yield- 12 Latkes
Prep time- 20 mins
Cool time- 10 mins
Ingredients-
-1 ½ lbs. of potatoes
-½ medium yellow onion, peeled and quartered
-1 large egg
-2 tbsp matzo meal or unseasoned dry breadcrumbs
-1 tsp kosher salt
-ground black pepper
-1-2 cups canola oil (depends on size of pan, 1 cup for 10-inch pan)
-applesauce or sour cream for serving
1. Prepare your potatoes. Scrub them well but don't peel them. Cut each potato in half crosswise. Grate the potatoes and onion using a food processor or a grater
2. Transfer the grated potato and onion onto a thin kitchen towel. Gather the corners dangle the bundle over a large bowl, then twist and squeeze the potatoes and onion as hard as you can until no more liquid comes out of the potatoes and onion shreds.
3. Pour off the liquid but keep the potato starch. Give the liquid a few minutes to allow the potato starch to settle and then pour off and discard the liquid but leave the potato starch.
4. Toss the latke ingredients together with your fingers. Add the potatoes, onion, eggs, matzo meal or breadcrumbs, salt, and pepper to the bowl of starch. Mix by hand, making sure that the potato starch breaks up and is evenly distributed with the rest of the ingredients. Set batter aside for 10 minutes.
5. Heat the oil. Place the oil in a large skillet so that when melted there is a depth of 1/4 inch Heat over medium-high heat until a piece of the latke mixture sizzles immediately.
6. Form latkes one at a time. Scoop 1/4 cup of the mixture onto a fish or flat spatula. Flatten with your fingers to a 4-inch patty.
7. Fry the latkes until golden brown on both sides. Slide the latke into the hot oil. Repeat until the pan is full but the latkes aren't crowded. Cook until deeply golden-brown, 4 to 5 minutes per side, adjusting the heat if necessary.
8. Drain the latkes. Transfer the latkes to a paper towel-lined baking sheet to drain for 2 minutes.
9. Serve with applesauce and sour cream or keep warm in the oven. Serve immediately with applesauce and sour cream for best taste.
Leave a Comment
Your donation will support the student journalists of Steinbrenner High School. Your contribution will allow us to purchase equipment and cover our annual website hosting costs.
About the Contributor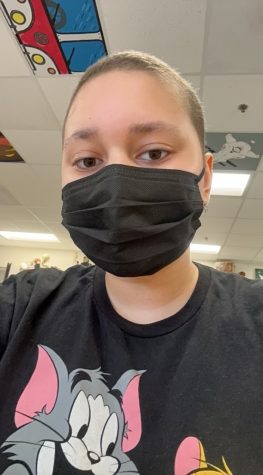 Malia Kirschman, Staff Writer
Malia is a freshman at Steinbrenner and a first time Oracle Staff Writer. In her free time, she enjoys shopping and listening to music.